Details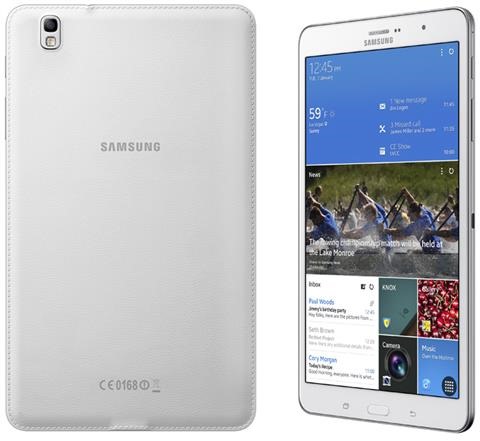 The Galaxy TabPRO 8.4 is first portable-sized high-resolution Android tablet that also features Android 4.4 KitKat, the very latest version of the operating system.
With an incredibly slim, light and sophisticated design that follows the rest of the PRO family, it's more portable and stylish than ever before. You can easily take the light and compact Galaxy TabPRO 8.4 in a bag wherever you want to go. Hancom Office allows you to work or study on the move, while the 8.4" display gives you vivid and clear viewing.
Compatible with 4g networks. Lets you connect to the internet faster an more efficient.
Bluetooth lets you wirelessly connect to a host of accessories and peripherals. Transfer files, use hands-free kits and stream media quickly and easily.
Do more of what you want to do. Surf the web and stream HD movies to your TV wirelessly at the same time. Reply to emails and download apps simultaneously. With the power and performance of the unbelievably fast, latest generation quadcore processor, anything is possible.
Take high quality photos wherever you go and share the best shots instantly with Facebook, Twitter or Instagram.
Capture every moment using the front or back camera. Get more people in the frame. You'll never have to compromise image quality when chatting or wirelessly sending video to your TV.
You'll never experience a dull moment on the full HD display. View all your favorite shows, movies, photos, and more. Thanks to the eye-popping, 440 PPI display, you'll enjoy rich, print-quality images in all their breathtaking beauty
Expand your device's storage with a Micro SD card and keep all your favorite music and videos on your device.
Transfer files 2x faster to or from your PC, connect additional storage and even charge your device using MicroUSB with charging capability
Smart, simple, and truly yours. Android KitKat brings all of Android's most innovative, most beautiful, and most useful features to more devices everywhere.

Additional Information
General
Specifications
| | |
| --- | --- |
| Model | T325 |
| What's in the box? | Tablet, Original charger, Adaptor plug, User's Guide, Wired handsfree |
| Network Band | GSM 1800, GSM 1900, GSM 850, GSM 900, 3G 1900, 3G 2100, 3G 850 (NextG/Vodafone 850/US3G), 3G 900 (Optus YesG/Vodafone 900), LTE 1800, LTE 2100, LTE 2600, LTE 800, LTE 850, LTE 900 |
| Sim Size | Micro SIM |
| 3G | Yes |
| Next G Compatible | Yes |
| Form Factor | Bar, Touchscreen |
| Height | 219 mm |
| Width | 128.5 mm |
| Thickness | 7.2 mm |
| Weight | 336 g |
| Screen Size (Diagonal) | 8.4 inches |
| Screen Resolution | 2560 x 1600 pixels |
| Screen Technology | Super clear LCD |
| Touchscreen Type | Capacitive |
| Input Type | Touchscreen QWERTY Portrait, Touchscreen QWERTY Landscape |
| Ringtone Type | MP3 |
| CPU | Quad-core 2.3 GHz Krait 400 |
| Internal Memory | 16GB |
| Expandable Memory | Up to 64 GB |
| Camera | 8MP |
| Camera Flash | Yes |
| Messaging | Instant Messaging, Email |
| Bluetooth | Yes |
| Secondary Camera | Yes |
| Operating System | Android 4.4 or above |
| NFC | Yes |
| Radio | No |
| Speakerphone | Yes |
| WiFi | Yes |
| GPS Hardware | Yes |
| Battery Capacity (mAh) | Non-removable Li-Ion 4800 mAh battery |
| RAM | 2GB |
| Generic Charger Type | microUSB |
How much do you charge for delivery?
Please find below the cost of shipping for Express / Priority shipping services, the available options at checkout will depend on your shipping location.
Mobile Phones
Metropolitan regions:
Regional and Remote areas:


$24
$44

Tablet PCs
Metropolitan regions:
Regional and Remote areas:


$48
$68

Memory Cards and Accessories
FREE
How long does the courier usually take to deliver my order?
We will ship your order(s) by one of the following shipping courier services (unless otherwise stated) using Express / Priority services, at this time we do not offer Standard courier services as the savings to you are minimal in the majority of cases for a much slower and less reliable service.
- FedEx
- DHL
- UPS
- TOLL
- TNT
- EMS
We will select any one of the above couriers at our discretion to ensure the most appropriate shipping service is provided to your location, a parcel tracking number will be provided for all above mentioned courier services which you will be able to track online, we will also email you regular tracking updates so you know were your parcel is at all times.
The following is a guideline of typical delivery times: Australia and New Zealand (New Zealand customers please add 1 additional working day)
Metropolitan regions: Express / Priority courier services take 1 - 4 working days from dispatch
Regional and Remote areas: Express / Priority courier services take 3 - 6 working days from dispatch
To find out if you are in a remote or regional area please view DHL's remote area chart HERE.
Please note we do not normally deliver to a PO Box or like address although on rare occasions we may make an exception, but this is solely at our discretion and delivery will usually take an additional 1 - 2 working days.
The above delivery times are estimations only and are based on averages from the data collected in our shipping records while also taking in to consideration the estimations provided by the courier services, while in most cases the shipping time will in fact be shorter.
*a single order of Accessories only will be shipped by Registered Air-mail which may take between 5 and 15 working days or possibly longer for regional and remote areas.
How do i track my order(s) once it is dispatched?
Once your order is dispatched we will email you to let you know this along with the tracking details and a link to track your parcel if you wish to track it manually, we will also send you regular tracking updates so you know were your parcel is at all times.
If you wish to track your parcel manually you can do so by entering your tracking number provided in to the tracking systems as provided by the selected courier, the courier tracking systems can be found at the following web locations:

Registered Air mail does provide a code for delivery, however it may not be available for real-time tracking depending on your local postal service, in these cases please contact us for any delivery enquiry.
What payment options do you offer and how do you process my payment?
When making payment with Android Enjoyed we guaruntee four things for your peace of mind

-100% Secure checkout using the latest PCI compliant gateway security and SSL encryption processes
- No Sending money overseas
- A variety of Payment options
- No cross boarder transaction fees for Australian account holders

At Android Enjoyed we use local Australian merchant facilities so you don't have to send money overseas and you don't get surprised by hidden fees and charges, when buying from many international sellers you may be surprised by the cost of sending payments overseas due to hidden exchange rate conversion charges most sellers and banks pass on to you the customer, thats why for your peace of mind we only charge in Australian dollars and we only use local Australian merchant facilities.

We offer the following payment methods for our Australian and New Zealand customers:

Card Payments using the following cards through our Australian PCI Compliant payment gateway direct merchant facility:
- VISA and VISA Debit cards.
- MasterCard, Debit MasterCard and PrePaid MasterCard cards.
- AMEX also known as American Express cards.
- Dinners Club cards.
- JCB cards.

We also accept Direct Deposit or Bank Transfers Via our ANZ business account. (note for international transfers outside of Australia there is a $20 administration fee)

PayPal merchant facility payments are currently not accepted due to higher fees and charges imposed on us the merchant, as we wish to ensure we offer the best possible price to you the consumer we need to ensure we keep all costs to a minimum, while we may introduce PayPal in the future there will likely be a surcharge imposed on such payments.

Android Enjoyed reserves the right to refuse or withhold any order from dispatch in order to process further security checks, if required these can delay an order for an additional 1 to 2 working days depending on the purchaser.
Do I need to send you a receipt for confirmation of my payment via direct deposit or bank transfer?
You do not need to send us any receipts or any payment confirmations provided you use your order number as the reference number when making your deposit, if not done this can cause delays in matching your payment to your order, once the payment is received in our account, you will receive an email from our Finance team as confirmation that we have received your funds.